BrandQ™ is a unique, navigational branding process. We are able to achieve true, unrivaled, authenticity for any brand by taking them on a journey of mapping their past, present, and future trajectory.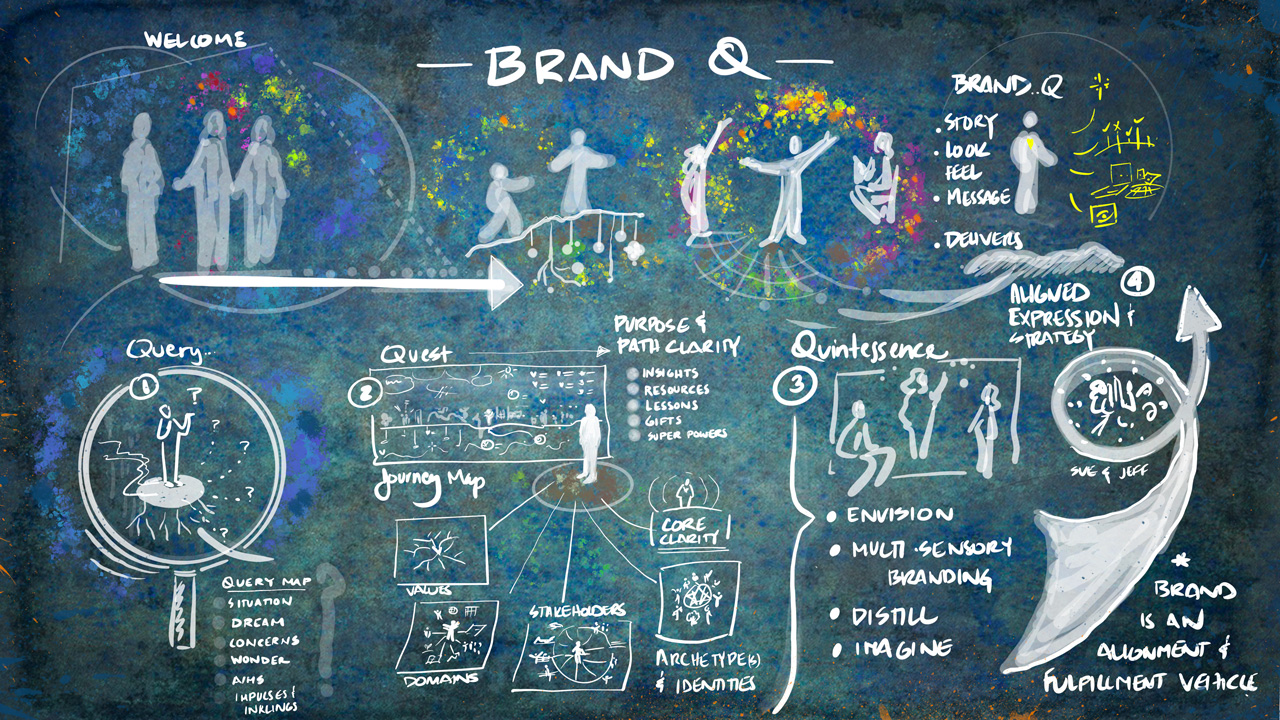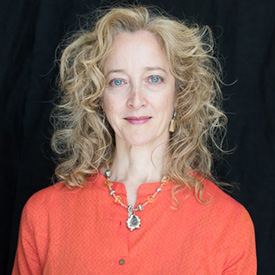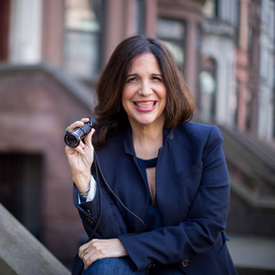 BrandQ partners™, Sue Kramer and Nusa Maal will take you on an unparalleled journey like no other agency in the world. An intellectual and emotional voyage to tap deeply into your most authentic brand, by mapping out your brand story.
We work with companies, CEOs, founders, celebrities, athletes, & influencers to make sure everything they do will be grounded & aligned in authenticity.
The process is a lifetime adventure, and the outcome is a uniquely tailored brand that unmistakably represents the clients quintessence. Compelling media, strategy, structures, and personal preparedness energize a visible, meaningful, aligned path forward. More than a brand this experiential quest and quintessence are part of the deep intelligence of BrandQ™.
Deep exploration, focused journey mapping, then integration of path and purpose the foundation for launching the kind of multidimensional paths that make the kinds of difference needed today.
THE ESSENTIAL ALIGNMENT APPROACH

From conscious to unconscious, from bold messaging and form to subtle aesthetics and non-verbals, how you are represented sets the tone, direction, and course for your life work.
Look around … well-intentioned or expedient misalignments abound costing years, relationships, money, elections, ventures, and quality of lives. That is why we've honed the most subtle multisensory alignment tools to assure resonant branding to set the stage solidly for happiness, health, meaningful work, success and flow.



A UNIQUELY TAILORED PROCESS MAPS & CREATES IN THREE STAGES
We've tapped into a brands truth through a journey of exploration, where the outcome is a brand that can be recognized for being truly authentic and unmistakably original.

Everything will come from clear sense of where you came from, where you are now, what most matters, and what possibilities lay ahead? Starting from a clear center, evokes the most pertinent questions, and catalyzes the most meaningful brand quest. We start with where you are, map the facets of your current and prior brands, what you've done and been, how, and the various whys.

Each Quest is a tailored inner and outer journey, facilitated and visually mapped. Meeting regularly we explore and lay out your brand journey, values, inner and outer resources. We elevate essential themes, gifts, resources, and in the process begin to visually lay out essentially energizing qualities. values, directions and flows. These lively, insightful sessions build on themselves and become both profoundly informative, and liberating.

Here, the inside facets from the quest come together to form a truly unique, aesthetic, story and purpose-aligned brand. that will represent with unique, energizing, aesthetic and story. Too often we see nice looking brands that don't feel right or true. They may feel superficial. Often a brand will reinforce a projection, so it feels more like an outer garment rather than an authentic expression.
Our clients will have a new stamp on everything they do, that is truly one of a kind. Imagine brand pyscho-therapy but done in the most artistic, intelligent, fun way.

"To get results and to find solutions needed now, we must access answers differently. It makes sense to start from the bigger, deeper and more dimensional ground with which we were born."
–ALBERT EINSTEIN

When the future depends on right action, taking full stock is critical. To actually step back and see the bigger picture, connect the dots, identify what most matters, include even the quietest lives, and understand potential paths and scenarios at the right time is essential to solving critical problems. These are cognitive moves best made with full access to our deepest, best mental, somatic, and emotional intelligence.
What decades of work have shown, and neuroscience now supports is that reconnecting neural pathways — engaging multi-sensorially — can reactivate a lost intelligence; opening a broader, deeper and more informative world of understanding. What might come of deep understanding of and for our children, families, communities, businesses, organization, cultures and world?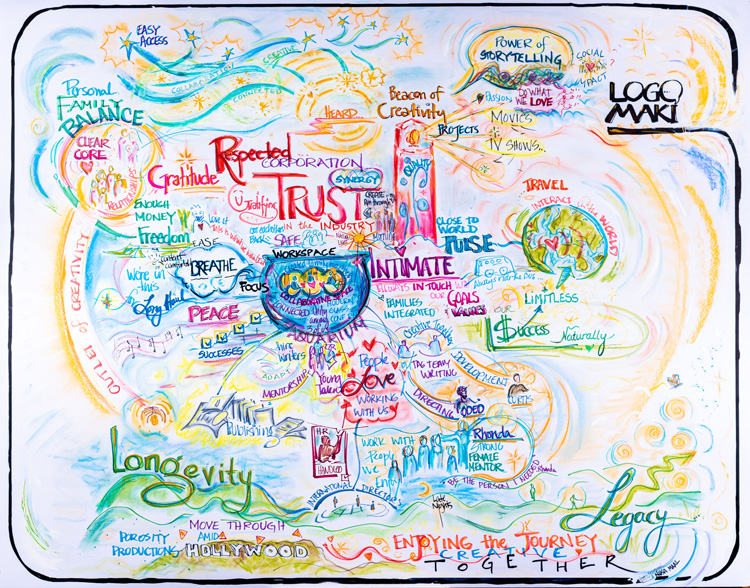 Mapping is a liberating process for drawing out deep intelligence and insight. Thoughts, once spoken disappear, but when anchored symbolically, they become part of a growing landscape of understanding. Because language is processed in a sequence a false priority falls on what or whomever is speaking at the moment. Life is non-linear, thus, as in nature, we are capable of perceiving multiple happenings at once, visually, in space.
Nusa Maal, a master expert in her field, uses supple perceptual sensibilities, deep psychodynamic facilitation and coaching expertise, and visual maps to bring clarity, grounding, alignment and optimal pathways to individuals, teams and companies. She has used these skills to bring understanding to NASA after the Challenger crash, facilitated community dialogue, trauma resolution and rebuilding possibilities after 9/11 and Katrina. She has also supported generating strategic solutions with the Parliament of World Religions, World Bank, leading corporations, NGOs, non-profits, entrepreneurs, educators, families and individual leaders. Consequently, our clients will go on a BRANDQ MAPPING journey with Nusa where she visually maps out the past and present, professional and personal, tracking's and marking the trajectory of what is to come!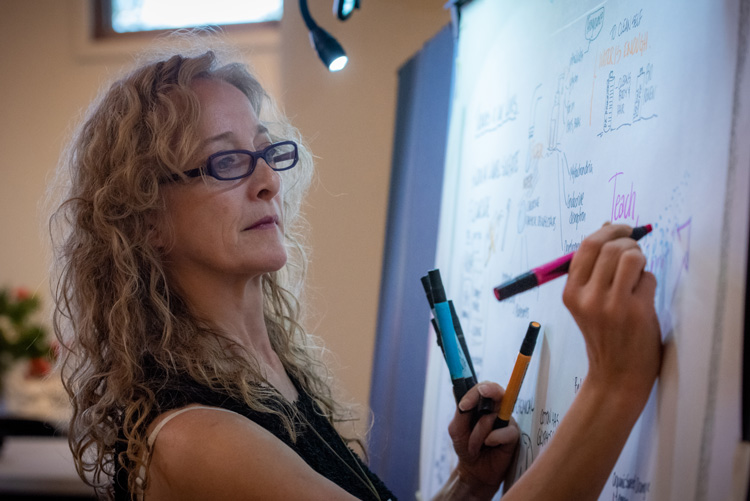 In the center of the process, Nusa and Sue bring together the multisensory insights from the BrandQ Quest. The inner alignment and grounded center, the visual vision, the clarity of calling, path and purpose, the multisensory brand trajectory are seamlessly brought together into the generative sphere of writer, producer, bespoke brand creative, Sue Kramer and her Connecting Dots Guru team. Once Nusa is done with her process of truly tapping into the most inner workings of a client's authentic persona and brand ethos — she gently passes the torch to Sue Kramer and her Connecting Dots Guru team.
At this point, BRANDQ will build our client's brand identity with a website and any collateral brand materials that are rooted and grounded, so the results are like no other.
The brand story will now be written and told visually through Sue Kramer's screenwriter's pen and filmmaker's lens. A cinematic brand identity will be created that will use all the integral work from Nusa's mapping sessions, resulting in the most grounded, enlightened, authentic brand that will serve each client's best path, and for its integrity and elegant coherence, elegantly hold the test of time.